Contact Benbria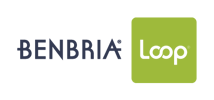 Contact Benbria Today:
James Geneau
Director of Marketing
Benbria Corporation
jgeneau@benbria.com
+1 416 562 2048
*Available North America and the Caribbean
Loop® Guest Engagement
Build Meaningful Connections with Your Guests
Today's guests want to engage with you on their terms and are embracing self-service technology faster than ever. They desire the ability to have their needs fulfilled at their fingertips using the mobile device of their choice. Speed and reliability in responding to their requests are the new benchmarks every hotelier must be able to meet. The award-winning Loop Messenger™ and Loop OnDemand™ products help you engage with your guests, increase revenue, and improve operations — all through your guest's personal mobile device.

About Benbria
Benbria, the company behind Loop, has been providing real-time messaging solutions for over 6 years and our client list features Fortune 500 companies and leading institutions across the globe.
A Winning Combination of Mobile Guest Engagement Products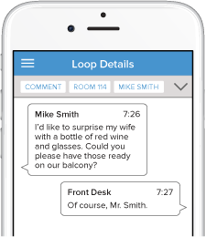 Loop Messenger™
Loop Messenger™ provides a one-on-one dialogue stream via the guest's personal mobile device, enabling hoteliers to save and retain at-risk guests before they leave the property.
Benefits

Real-Time Communication
Guests can submit requests, compliments, and concerns to staff. Your property can instantly address their needs and push messages, offers, and specials of value back to them as well.
Gauge Guest Sentiment
Built-in natural language processing offers insight into your guests' sentiments, both positive and negative, over the course of their stay to help identify those at risk.
Improve Social Performance
When a guest has had a positive experience on your property, Loop® allows you to prompt them via mobile to post a review or share their experience online at the most opportune moment.
Gain Loyal and Profitable Guests
Loop® offers a unique and unforgettable experience for guests while they're on site. It can be used to have them opt into your loyalty or post-stay marketing program to drive more direct engagement.
Advanced Features
Cross-Team Collaboration
Loop® includes internal chat tools for team members to foster better collaboration and responses to guest needs. Auto-escalations can be sent to a small group of team members or an entire multi-location network.
Scheduled Messaging
Loop®'s scheduling engine and message templates enable team members to automatically send reminders and invitations to guests at any point during their stay.
Analytics and Reports
Loop®'s natural language processing measures the temperature of guest dialogue to determine if they are happy, neutral, or dissatisfied, then captures it in a trend line over the course of their stay.
Enterprise Scale
Loop® runs on best-in-class secure cloud hosting services and is 100% scalable to work in any enterprise, regardless of team size or geographic operations.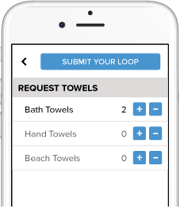 Loop OnDemand™
An automated, menu-driven interface saves you time and money while giving guests the option of self-service and faster response times to their requests.
Benefits
Automate Frequent Requests
Your guests can easily request your most popular items via their mobile device. They get what they want, how they want it, and when they need it.
Faster Fulfillment
Loop® intelligently routes requests to the relevant team, so your staff spends less time at the computer or on the phone determining their guests' needs.
More Profitable Operations
Auto-routing and integration with service order systems saves time and operator resources so you can drive greater efficiency from each guest request.
Increased Guest Engagement
Guests who consistently receive superior, timely service are more likely to become repeat guests and brand advocates.
 
Advanced Features

Menu-Driven Interface
Guests can choose what they want from a list of amenities and services and have it provided or delivered to their room with minimal back-and-forth with hotel staff.
Integration with Hotsos®
Guest requests can be routed directly into HotSOS® and be queued for faster resolution without operator intervention, allowing guest-facing team members to deliver great service more efficiently.
Real-Time Status Updates
Real-time updates provide guests visibility and transparency into their requests, allowing you to manage their expectations, whether they are on or off your property.
Request Auto-Tagging
Loop® can automatically assign requests to the appropriate team members for action and fulfillment, whether it's integrated with your current service order system or on its own.
Analytics and Reporting
Advanced Loop® reporting offers insight into recurring guest concerns, issue resolution performance by department or team member, opportunities to improve operations, and more.
Loop® Messenger™ Integration
Guests that have special requests or concerns can communicate these through Loop Messenger™ by chatting real-time with a team member.
Advanced Reports


Loop's advanced reports allow you find ways to continually improve guest experience quality and service. Our reporting does this by providing the data you need to identify trends and issues that help you better manage your business and service the needs of your guests. All levels of management benefit from Loop reports to:
• Gain immediate insight into the level of guest satisfaction at any property
• Evaluate and compare the performance of multiple properties
• Identify trending Loop topics to make better data-driven business decisions
• Gather critical guest experience data required to improve property operations
Additional Benefits for Members of Preferred Hotels Group
As a special member property of Preferred Hotels Group within the Americas region, you are entitled to a 10% discount on our best pricing for all Loop® products and related services.

Request a Free Demo
Sign up for a free demonstration of how Loop® can help you engage with your guests through their personal mobile device, enhance their experience, increase revenue, and improve operations. Start building emotional connections with your guests today!
Contact Benbria