Contact Molton Brown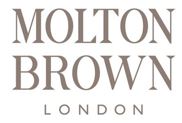 Contact:
MARTINA HALBRITTER
Associate Director, Hotel Sales, Molton Brown, EMEA
D +44 (0)203 540 1194
M +44 (0)7800 616386
martina.halbritter@kao.com
www.moltonbrown.com
Molton Brown
130 Shaftesbury Avenue
London, W1D 5EU, England 
 *Available in select European countries and Asia Pacific 
Preferred Hotels & Resorts members will benefit from:
     - Preferential pricing for in-room amenities, public areas and Spa (20% off list)
     - Preferential pricing for corporate gifting and access to retail programmes (40% off RRP)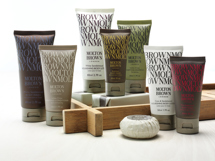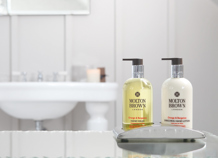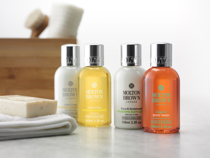 Since 1973 the iconic Molton Brown has been famed for their innovative and memorable scents and created Britain's first luxury fine liquid hand wash and in-room hotel amenities.  Molton Brown is also proud to hold a Royal Warrant for the supply of toiletries to Her Majesty, Queen Elizabeth II.
Molton Brown offers a variety of luxury hotel collections with over 25 fragrances and formulations to truly customize your guest experience.  For larger customers, they can offer dual labeling and exclusive bespoke fragrances to create a unique and luxury fragrance experience in your hotel. 
Molton Brown offer a signature range of services tailored for hotels and their guests, including their indulgent bathing butler and ritual programmes, turndown gifting, exclusive on-site retail opportunities, global press and editorial opportunities, scent marketing, and corporate gifting.
Molton Brown offers the fragrant and unexpected finishing touches to make your guests' stays their most memorable.
Discover their luxury hotel collections at www.moltonbrown.co.uk/store/hotel-amenities 

Contact Molton Brown