Contact Standard Textile Co., Inc.
 Contact Us today for Special Preferred Member Benefits & Pricing
North America                                                                        Europe/Middle East                       
Greg Eubanks                                                                             Francois Roblin
Group Vice President,                                                                Regional Sales Manager,
Hospitality Sales & Marketing                                                   Hospitality
(513) 761-9255 x2532                                                               Tel: +33 (04) 72 47 1717
geubanks@standardtextile.com                                       Fax: +33 (04) 78 90 80 40
                                                                                                   froblin@standardtextile.com
Asia
Patrick Zhu
Regional Sales Manager, Hospitality
Tel: +86 21 6888 7789 ext 19
Fax: +86 21 5882 8591
*********************



Click Here to SEE OUR EXCLUSIVE LINE OF BATHROBES BY DESIGNER HEIDI WEISEL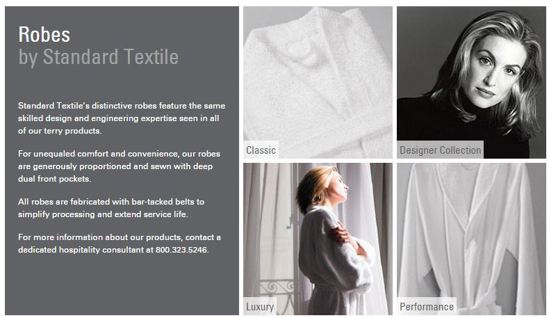 Standard Textile's Hospitality Division is revolutionizing the hospitality industry with innovative textile products. Backed by committed professionals with design and textile engineering expertise, Standard Textile is poised to offer luxurious linen with a sumptuous hand and feel for an extraordinary guest experience and unsurpassed durability with superior cost management.
Serving the world's most preferred hotels, Standard Textile has collaborated with award-wining hospitality designer Todd-Avery Lenahan to present a ground-breaking collection of striking jacquard ensembles, delicately colored for the bed, that combine Standard Textile's patented Centium Satin Sheeting® with TAL's uniquely elevated aesthetic.
As a member of Preferred Hotels & Resorts' National Discount & Savings Program, you receive the following benefits:
Access to discounted Preferred Hotels & Resorts national pricing
Preferred Members are first clients to access the newly launched Todd-Avery Lenahan jacquard ensemble collection
A dedicated hospitality consultant for professional textile linen management solutions
Room Ready For You® Laundered with Tide® linen ready to use right out of the box
*Available Globally
Contact Standard Textile Co., Inc.